Little Man
A downloadable game for Windows, macOS, Linux, and Android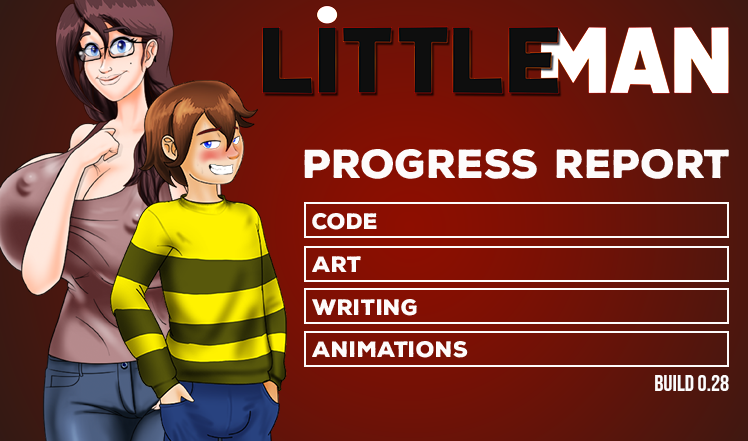 Synopsis
A man with a poor childhood tries his best to overcome and forget, but nightmares pursue them, and he feels he needs to do something, by finding an artifact that will give him a chance to fix his life and bring him a lot of fun.

Disclaimer
This is a work of fiction. Names, characters businesses, places, events, locale, and incidents are either the products of the author's imagination or used in a fictitious manner. All characters are over 18 years. This game contains violence and sexual content that should only be seen by the public over 18.
Supporting the Project
You can support the project on the platform SubscribeStar, monthly and through donations, every help is welcome to keep the project going, on the monthly mode you can get several rewards that are different depending on the project you are helping. Thank you very much.

FAQ:
When will the new update come out?
We tend to release updates monthly, between the 25th and 30th of the month (Public builds come out 5 days after the early access builds).
Will you add more characters in the future?
Yeah ;)
(Android) I can't install the new version on my mobile device.
Before you install the new version on your device it is necessary that you uninstall the previous version. Remember to backup your saves!
What's new in the update?
Whenever we release an update it comes with the changelog, if you are our $5+ Sub for example, you will be able to see this changelog in our Subscribestar posts. Otherwise you must wait until the update becomes public and we post it here.

How do I find such a character/item/etc...?
The reason some characters and things like that aren't easy to find are part of the gameplay, so we tend not to answer these kinds of questions. Anyway, you are free to ask and answer this type of question without any problem.
Download
Click download now to get access to the following files:
LittleMan-0.26-mac.zip
1 GB
LittleMan 0.26 Android Build.apk
1 GB
LittleMan-0.26-pc.zip
1 GB